On the occasion of the commemoration of  the 2021 Wold Day Against Child Labour, Friends of the Nation [FoN] held a press interaction to highlight issues of child labour in Ghana. Find below FoN's statement read to the press by the Executive Director, Donkris Mevuta.
PRESS STATEMENT BY FRIENDS OF THE NATION [FoN] ON THE COMMEMORATION OF THE WORLD DAY AGAINST CHILD LABOR – 2021
 This year's World Day Against Child Labour focuses on action taken for 2021 dedicated as "International Year for the Elimination of Child Labour". It is the first "World Day" since the universal ratification of the ILO's Convention No. 182 on the Worst Forms of Child Labour, and takes place at time when the COVID-19 crisis threatens to reverse years of progress in tackling the problem (i.e. any pace of progress towards ending child labour is likely to be affected by the COVID-19 pandemic and the unprecedented economic crisis that has accompanied it).
Friends of the Nation (FoN) sees this year's commemoration as\ an opportunity for the public and stakeholders to understand the differences between Child Labour and Child Work (as this has been a "contentious" issue with cultural connotations for the Ghanaian.
Child development is a dynamic, interactive process. Every child is unique in interacting with the world around them, and what they invoke and receive from others and the environment also shapes how they think and behave. Children growing up in different cultures receive specific inputs from their environment. For that reason, there's a vast array of cultural differences in children's beliefs and behaviour.
Traditionally, it was more likely that a fisherman's children will become fishermen; and a farmer's, hunters, blacksmith's etc. children follow their parents' footsteps through grooming from an early stage through systematic processes. That's heritage and culture at work.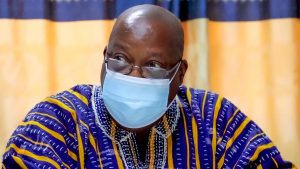 But can we say same for "child labourers" under the bondage with a stranger?
Prevalence of child labour
Children around the world are routinely engaged in paid and unpaid forms of work that are not harmful to them. However, they are classified as child labourers when they are either too young to work, or are involved in hazardous activities that may compromise their physical, mental, social or educational development (e.g. fishing, mining, soldiers in armed conflicts, farming with chemicals etc.).
In the least developed countries (Ghana inclusive), slightly more than one in four children (ages 5 to 17) are engaged in labour that is considered detrimental to their health and development (e.g. fishing, mining, farming with toxic agro-chemicals etc.); and Africa ranks highest among regions both in the percentage of children in child labour (20%); and the absolute number of children in child labour (72 million).
Combating child labour
Almost one in ten of all children worldwide are in child labour. While the official number has declined by 94 million since 2000, the rate of reduction slowed by two-thirds in recent years. Target 8.7 of the UN Sustainable Development Goals (SDGs) calls for an end to child labour in all its forms by 2025. How can the world community get firmly on track toward eliminating child labour in the present scheme of things?
In 2019, Ghana made a minimal advancement in efforts to eliminate the worst forms of child labor. The government committed to use the Trafficking in Persons (TIP) Information System developed by the International Organization for Migration (IOM) to improve case tracking and inter-ministerial coordinated responses.
However, children in Ghana continue to engage in the worst forms of child labor, including in fishing and cocoa harvesting, each sometimes as a result of human trafficking and resource constraints severely limited the government's abilities to adequately enforce labor laws and implement social programs during the reporting period.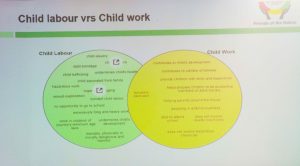 According to the ILO (and corroborated by FoN's own experiences on the field – e.g. Cape-Coast, coastal-fishing belt of the Central Region, Wassa, Volta Lake areas etc.), the majority of children subject to human trafficking within Ghana are exploited for labor in
Cocoa farming,
Domestic work,
Commercial sexual exploitation,
Gold mining, and
Children as young as age 4 are subjected to forced labor in fishing in the areas around Lake Volta, sometimes as a result of human trafficking.
Children also use sharp tools and are exposed to agro-chemicals while working in the cocoa sector. In addition, girls as young as age 13 from rural northern regions of Ghana travel to urban centers to work as kayayei (female porters), carrying heavy loads on their heads in markets and are particularly vulnerable to sexual abuse and exploitation.
FoN wants to take this opportunity to laud the works and support of state agencies (sector MDAs, Security Agencies, MMDAs, and Bilateral Agencies and Civil Society Donor Organizations. The role of the National Steering Committee on Child Labour in monitoring/coordinating efforts of a variety of actors and also developing common communication strategies for us (collaborative communication) so we maintain a stronger unified front as a nation in addressing issues of Child Labor, and combatting Trafficking in Persons.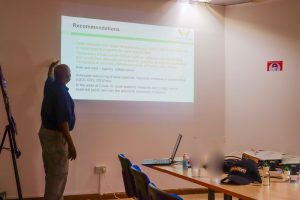 Child's Rights are Human Rights. Children (for that matter humans) are not commodities to be traded in. They have the right to live, develop, and be protected against harm, abuse and exploitation as enshrined in the UN Convention on the Rights of the Child, the Children's Act and all other protocols. It is very essential for all actors to collaborate and improve the well-being of children.
On the occasion of this event, it is an opportunity for actors to examine the issue child labour in fisheries, and child labour in artisanal small-scale mining and "galamsey". Children bring cheap labour, are daring and sleek (diving under water to extricate entangled nets, or entering deep winding pits to dig for gold – just for little pay. These same children on the beaches or the mining pits are abused sexually by adults and their own peers – all highlighting the fact that child labor is inimical to a child's developmental potentials.
A child's secured future is potentially the elderly's secured future. Let's secure our nation's future by securing the Ghanaian child's against child labour.
On this note Friends of the Nation calls on the Fisheries Commission to urgently implement the anti-CLaT in Fisheries Policy Document developed by Friends of the Nation and partners and adopted by the commission in 2017.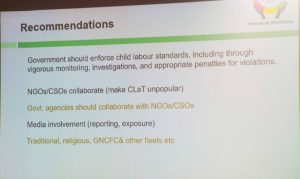 Additionally, FoN encourages Metropolitan, Municipal and District Assemblies to incorporate anti-CLaT issues in their Medium-term Development Plans (MTDP 2022-2026); and also endeavor to resource Child Panels in their respective assemblies to work effectively and efficiently.
Thank You.
[Signed]
Donkris Mevuta
Executive Director-