The chairman for the newly established Multi-Stakeholder Platform for the ReDIAL Project in the Sefwi Wiawso Municipality, Kwaku Afful has disclosed that climate change is biting hard on farms in the Western North Region. This, according to him, has led to the decline of farm yields in the Sefwi belt, touted as one of Ghana's food baskets. Apart from the decline in yields, post harvest losses, Mr. Afull said, has become a norm, threatening Ghana's food security. He lamented the lack of a coordinated effort by stakeholders to stem out illegal logging, bush burning, bad farming practices identified as factors fueling climate change.
"Climate change will kill us if government, NGO's and philanthropists don't come to our aid", He said. Mr. Afful was however positive that the ReDIAL project, a European Union (EU) funded project which has overall goal of improving food security and nutrition as well as livelihoods of smallholder farmers, would help solve the many challenges confronting farming in the regions.
Mr. Afull, 45, will lead a group of marginalized and disabled farmers in the Sefwi Wiawso municipality on the Multi-stakeholder platform. He will collaborate with managers of the ReDIAL project to facilitate consensus building through collective identification of challenges, recognition of shared goals and interests, and the creation of solution pathways for farmers in his zone. His election qualifies him to be a member of the National Multi-stakeholder Platform of the ReDIAL project. "I have absolute faith in the ideals of the ReDIAL project and I will would work together with the team in making sure that the platform succeeds". He concluded.
On his part, the District Director of Agric Mr. Joseph Otoo was excited about the target group of the project and indicated his willingness to support the project to succeed. Daniel Kofi Abu, the Project Manager of Tropenbos Ghana who facilitated the programme, tasked the platform to take keen interest in promoting the general welfare of farmers and advised the newly inaugurated executives to be mindful of their conduct as any negative behaviour may affect the fortunes of the project. The maiden meeting of the platform is scheduled for the ending of June 2021 as the platform agreed to have quarterly meetings.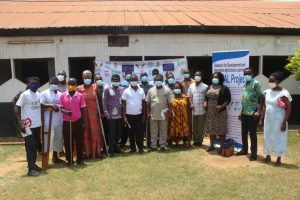 The ReDIAL project is part of the EU initiative on Climate-relevant Development Smart Innovation through Research in Agriculture (and food systems) in developing countries – DeSIRA. In Ghana, the project is being implemented by a consortium of partners, Friends of Nation, Tropenbos Ghana, FRNR-KNUST, SESI Technologies and SAYeTECH and seeks to contribute to transformation and innovation in agriculture and food systems through action research, application of innovative technologies, and organization of farmers and multi-stakeholder platforms. The project is being implemented in the following five (5) districts/municipalities: Yendi Municipal of the Northern Region, Techiman Municipal of the Bono East Region, Ejura-Sekyeredumase Municipal of the Ashanti Region, Sefwi Wiawso District of the Western North Region, Kwahu Afram Plains North District of the Eastern Region.