Friends of the Nation (FoN) launched its social accountability project in Shama on June 2, 2015. This project, supported by the French Embassy and the Ghana Center for Democratic Development (CDD-Ghana), seeks to increase transparency and accountability in public financial management. The purpose of the launch was to socialize the project objectives and benefits with stakeholders and beneficiaries. The event was chaired by Nana Akosua Gyenfiaba II, Acting Paramount Queen Mother of Shama Traditional Area, and attended by 70 people. It also provided the platform for Shama residents to be informed on the status of implementation of the District's 2015 Annual Action Plan and Composite Budget. Participants were informed on how the Assembly is using public resources and citizens' taxes in executing projects in Agriculture & Natural Resources Management, Health, Education and Infrastructure.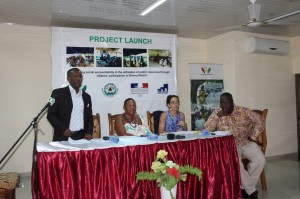 Speaking at the launch, Julie Lucas from the France-Ghana Co-operation, said her organization is proud to be supporting this project which has a broader objective to ensure that decision makers follow development plans and manage budgetary allocations to development projects more judiciously. She expressed appreciation to Friends of the Nation for working closely with the Shama District Assembly to deepen transparency, accountability and sustainable development in the District.
Stephen Blighten, Regional Planning and Economic Officer at the Western Regional Coordinating Council, commended the French Embassy for supporting participatory and accountable governance in the Western Region. He urged participants to take the advantage of this project to ensure effective monitoring and tracking of how the Assembly uses their taxes to implement development projects in the District.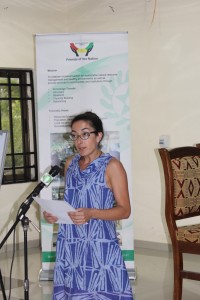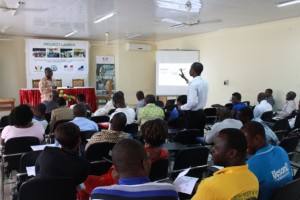 Responding to questions, during the open forum, the District Chief Executive, Enoch Kojo Appiah, said the Assembly is financially challenged in meeting the needs and aspirations of the citizenry. He mentioned that the erratic disbursement of the District Assembly Common Fund and low internally generated funds affect the operations of the Assembly in discharging its mandate to the citizenry. He therefore called on corporate bodies and development agencies to assist the Assembly in fast- tracking development of the District. The Chief Executive however reiterated that the Assembly's commitment to be transparent, accountable and responsive in the utilisation of public resources and urged residents to support the implementation of this project.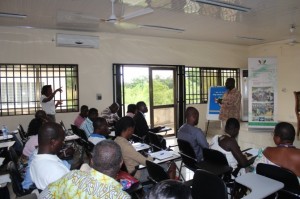 The one-year project is supported by the French Embassy, the Ghana Center for Democratic Development (CDD-Ghana) in collaboration with the Ministry of Local Government and Rural Development and the Public Sector Reform Secretariat under the "Strengthening ties between government, Civil Society and citizens" Initiative which aims to encourage participation in governance and increase citizens' engagement with national and local authorities to improve governance in the country.