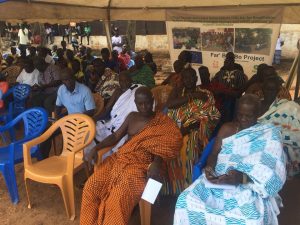 Friends of the Nation (FoN) under the auspices of the FAR' BAN BO Project funded by the European Union (EU) participated in the Grand Durbar of the Ahobaa Kese Festival of the people of Gomoa Fetteh, a coastal fishing community in Central Region. FoN used drama performances to communicate responsible fisheries issues to over 500 audience made up of fisher folks, traditional leaders, District Assemblies, Member of Parliament, Ministers, etc.
Key messages from the drama performances included:
1. The need to work together to stop "Illegal, Unreported Unregulated" (IUU) fisheries.
2. Stop the blame game in fisheries
3. Avoiding political interference of Fisheries Enforcement activities
4. Stakeholders participation in rebuilding fisheries resources.
5. The need to support sustainable fisheries management programmes (eg. Co-management, IUU, Closed season etc.)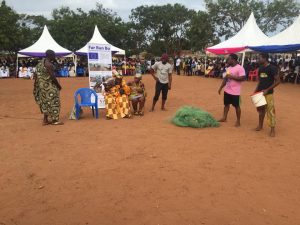 The drama also emphasized the need of voluntary compliance of fisheries laws and regulations to avoid the risk of a total collapsed of fisheries resources by 2025.