"I gain only a small amount of money from engaging in illegal mining, sometimes I use all the money to go to the hospital when I fall sick". "With this training, I am have gained new skills in soap making and I can use the money from this to finance my education". This is the reflection of  Emmanuel Ayensu, a 22 year old Senior High Graduate and miner from Mpohor.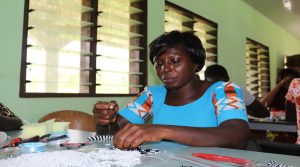 Despite the positive contributions of Ghana's Artisanal and Small-scale Mining sector in the lives of young men and women, many of the miners operate illegally without license. Illegal small-scale mining commonly referred locally as galamsey has become a great national concern contributing to wide spread environmental degradation and sometimes fatal accidents. Galamsey in many instances does not provide a sustainable future for young people, as wages are minimal and there is a lack of job security. It is also hazardous to young people's health and wellbeing, involving arduous working conditions. This situation is no different in Mpohor, a mining community in the Western Region of Ghana where illegal mining is of concern to community members, local government and traditional authorities in the District.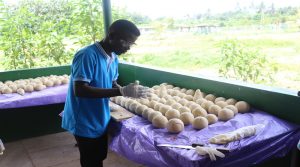 With support from the Australian High Commission under the Direct Aid Program (DAP), Friends of the Nation (FoN) initiated a 12-month pilot project with the aim to raise awareness on drivers behind the high number of youth involved in galamsey and promote livelihood enhancement and diversification through skills training. Through a research, high levels of unemployment, inadequate financial support to learn a skill, trade or further education, poor educational background, coupled with inadequate skills were identified as some of the drivers of youth involvement in galamsey. The research also assessed diversified livelihoods options of interest to the youth engaged in mining. After several consultations, soap making and cosmetic products; beads jewelry and animal husbandry were identified as best options that could provide some sustainable incomes and diversification for the youth.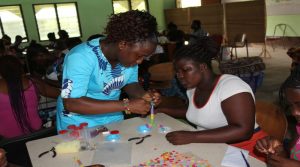 In all, 65 young men and women including other community members have acquired new skills and exposed to diversified livelihood options in soap making and cosmetic products; beads jewelry and animal husbandry.The beneficiaries are now beaming with hope for a brighter future. Most of miners expressed the desire to leave the "risky" job and use the skills acquired to make sustainable living. Rita Amoah, a 24 year old woman remarked, "I am now empowered to make a meaningful living". "With this skills in beads jewelry, I will be able to make some decent income to cater for myself and my family. "I am now free from the difficult work involved in carrying load at the mine site. "I am grateful to the Australian High Commission and Friends of the Nation for this opportunity."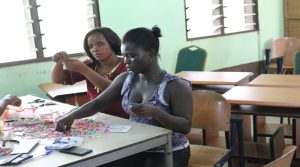 This pilot project has demonstrated new ways of providing diversified livelihoods on a sustainable basis for youth involved illegal small-scale mining. The intervention provides a model for local and national stakeholders to adopt as one of the ways to reduce the number of young people involved in illegal mining through provision diversified livelihoods options based on their interest and needs.
Drawing on the success on this project, Friends of the Nation will continue to seek funding support from donors and other partners to upscale this intervention in other areas.