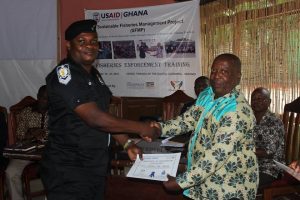 FoN has commenced a 3-Day training on Fisheries Laws and Regulations for 30 officers from Marine Unit of the Ghana Police, Ghana Navy and Fisheries Commission. The purpose is to enhance their understanding on the importance, governance challenges, opportunities and legal and regulatory framework of the fisheries sector for better enforcement of its laws.
Today's session will deepen participants understanding of the Fisheries Act as amended Act 880, 2014; Fisheries Regulation/Standard Operations and Montoring Control Surveillance as well as the Code of Conduct for Enforcement, Approaches and Communications.
The training forms part of the USAID GhanaSustainable Fisheries Management Project (SFMP) with a goal of rebuilding targeted marine fisheries stocks and catches through adoption of responsible fishing practices.
REBUILDING TARGETED MARINE STOCKS: TRAINING ON FISHERIES LAWS FOR ENFORCEMENT OFFICERS – DAY 2
The second day of this training focuses on understanding traditional fisheries governance, lessons of global best practices in fisheries management and field trip to interact with fisherfolks.
In detail, a panel discussion will be facilitated with selected fisherfolk leaders to share experiences on the role of Chief Fishermen and Women (fishmongers/processors/traders) in Fisheries Governance, as well as Why fisherfolks break the Fisheries Law. Participants will also be sensitized on the New National Fisheries Management Plan (2015-2019) and Options in Fisheries Management.
Earlier in the day, the Enforcement Officers undertook a trip to the Albert Bosomtwe Sam Fishing Harbour, Sekondi to interact with fishermen to understand their operations and the types of gears used for fishing.
REBUILDING TARGETED MARINE FISH STOCKS: TRAINING OF ENFORCEMENT OFFICERS ON FISHERIES LAWS -FINAL DAY
The last day of this training engaged participants on the child labour and trafficking issues in fisheries. Participants were also exposed to interactions between oil & gas operations and fisheries.
The climax of the day was the presentation of certificates to participants and resource persons.