In ensuring that Illegal, Unregulated and Unreported (IUU) fishing is confronted head on, an IUU – Community Monitoring Group has been formed in Dixcove, Ahanta West District, which is one of the beneficiary communities of the European Union funded Far Ban Bo Project. Further, to ensure that members of the IUU-Community Monitoring Group (IUU-CMG) understand their role and what is expected of them, the consortium of partners (Friends of the Nation, CARE and Oxfam), organised an IUU orientation workshop for them.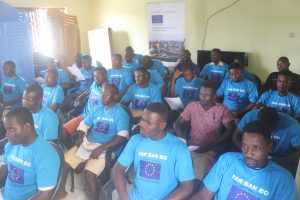 The FBB project partners were keen in making sure communities were part of ensuring that illegal fishing is stopped. Participants were advised to avoid being confrontational with culprits of IUU as their role was to help us monitor IUU and not to carryout arrest.The overall goal was to focus on truncating IUU by trawlers through effective community monitoring.
The director of Marine Police Unit of the Ghana Police Service, ACP Seidu Iddi also shared that as law enforcement unit in the fisheries sector, they are seek the cooperation and support of our local fishermen and all stakeholders in the industry. With Dixcove being his first community to visit, he assured the IUU-CMG that the Marine Police is willing to effectively work with fishermen to improve the state of fisheries.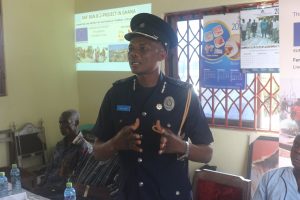 Also present at the workshop was Nana Kwesi Agyemang IX, Paramount Chief of Lower Traditional area who also urged his people support the FBB Project with their local knowledge in order to help improve their livelihoods.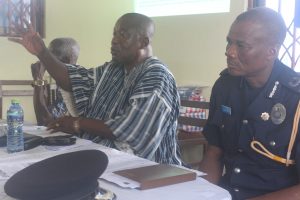 'Far Ban Bo', which means 'protecting fisheries livelihoods' is an European Union funded 4-year (2017 – 2021) fisheries governance project which is being implemented by a consortium consisting of CARE (the lead), Friends of the Nation and Oxfam in collaboration with key fishery stakeholders, including smallholder fishery associations, the Fisheries Commission, Fisheries Alliance, etc. The project is designed to address the challenges of overfishing and unsustainable fishing practices including IUU fishing, low compliance and weak capacity for enforcement within the fisheries sector.