Ghana's Lithium Project: Tapping into Ghana's mining history for effective lithium mining governance.
Friends of the Nation in partnership with Oxfam is assisting communities around the Ewoyaa Lithium Project being developed by Atlantic Lithium (Green Metals). Local capacities are being developed on land and crop compensation, community rights and environmental governance.
The Ewoyaa Lithium Project
The Australian company, Atlantic Lithium, as of February 2023 has discovered some 35.3mt of lithium at Ewoyaa, a small farming community, near Saltpond in the Mfantseman Municipal. Other catchment communities include Krofu, Kaampakrom, Ansaaze, Abonko, anokyi, etc. Atlantic Lithium (formerly Iron Ridge Resources) has financial support from Piedmont, which also has agreement with Elon Musk's electric car manufacturing company Tesla that would be off takers of 50% of the spodumene mined from Ewoyaa.
The project, at the current proven reserve of 35.3mt is expected to last for 12.5 years. Piedmont at the current arrangement will receive half of every year's production, whilst the remaining 50 percent is up for the investor community. It is worthy of note that the company is yet to receive a mining lease from the government of Ghana. Atlantic Lithium holds in high esteem the potential of the Ewoyaa Lithium Project in that, the project is situated a kilometer away from the Accra-Takoradi Highway with readily available power source and a seaport (110km) at Takoradi primarily constructed from shipping out the spodumene.
Atlantic lithium's engagements with catchment communities
Atlantic Lithium has country representatives with diverse mining experience managing its exploratory campaigns. After it obtained exploratory license from the government of Ghana, the company went into the listed catchment communities as stipulated under Minerals and Mining (Compensation and resettlement) LI 2175 for land and crop conversations ahead of its exploratory activities.
Our intervention
Some mining companies in Ghana have history of handling land and crop compensations in ways that shortchange and threatens the livelihood of communities against the provisions of LI2175 during exploratory and production activities.
FoN is assisting the catchment communities around the Ewoyaa Lithium Project to understand the provisions of the LI with the view of ensuring peaceful co-existence between the company and catchment communities. In this regard, FoN and its partner, Oxfam have supported the Lands Commission and the Environmental Protection Agency in the Central Region in a four days training on land and crop compensation, community rights and environmental governance.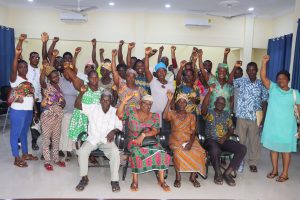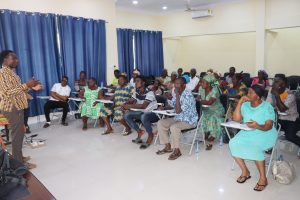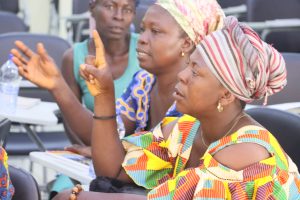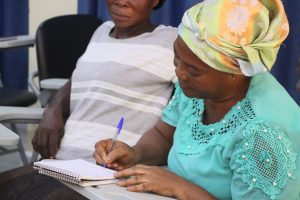 Community members on a learning and sharing visit to mining stakeholders in Tarkwa.
FoN has also organized a learning and exchange visit of 15 selected community members from Ewoyaa, Krofu Kaampakrom and Ansaaze to the Tarkwa Municipal Assembly, the Environmental Protection Agency in Tarkwa, Anglogold Ashanti Iduaprim Mine, (sustainability Department) Goldfields Ghana Limited-Tarkwa and Traditional leaders in Prestea.