With funding from the US Department of State through the US Embassy in Ghana, the two-day training exposed participants on how to extract without the use of mercury based on the characteristics on the ore.
The training involved classroom and field demonstration sessions. The content included the impact of mercury on human and the environment; methods used in determining the mineralogical and metallurgical properties of gold bearing ores and concentrates; and mercury-free flowsheets of extracting gold based on the characteristics of the ore.
Participants were exposed to how to use methods such as winnowing and direct smelting of extracting gold from concentrates using the correct flux composition and temperature.
The miners expressed joy at being exposed to the method were they have a higher recovery of gold without the use of the harmful chemical – mercury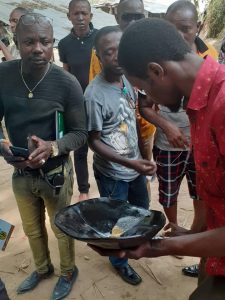 Miners were drawn from 9 mining areas including Tarkwa, Prestea, Nkroful, Dunkwa, Obuasi, Wassa Akropong, Asankragwa and Enchi.
The regulators were field officers of the EPA and Minerals Commission from Tarkwa, Daboase, Nkroful, Obuasi and Asankragwa.
This training was after a research was conducted to determine the mineralogy and metallurgical properties on gold bearing ores and concentrates in selected mining areas in Western and Central regions in Ghana.
Sequel to this corresponding flowsheets were developed based on the characteristics of free-milling, alluvial and sulphide ores.