On August 28, 2018, the District Chief Executive of the Shama District Assembly, Hon. Joseph Amoah, officially opened a 3-month closed season within the lower Pra River area. Speaking at a durbar held at Anlo Beach, he admitted that, little did he know that history was going to be made on this soil. This Community-Based Fisheries Management Plan was implemented by a registered 11- member Fisheries Management Committee comprising of one representative each from the 11 communities (Anlo Beach, Shama Apo, Esiesim, Antotre, Krobo, Bosomdo, Borkokope, Yabiw, Atwerboanda, Nomda & Supom Dunkwaw); with support from Friends of the Nation under the USAID Sustainable Fisheries Management Project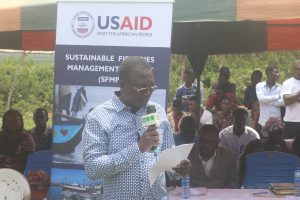 Delivering his keynote address, he said, "Shama District has a different and good story to tell. Here in Shama District, 11 communities surrounding the Pra Estuary and its associated wetlands have shown good example by coming together to champion a worthy course. These communities decided to demarcate a total area of 3, 190 hectares to focus management actions on. Through the local ecological knowledge, the people identified 7 fish breeding grounds where most fish species spawn. One of such breeding grounds was selected to start a seasonal closure to learn lessons and replicate in other areas."
He also shared that the area was is 70.33 hectares in size was closed for fishing from May 1, – July 31, 2018. The area was diligently marked with painted bamboo sticks to serve as a warning to possible defaulters. Hon. Amoah emphasized on the fact that the Assembly have included issues of fisheries management in their Medium Term Development Plan (2018-2021).
Other key stakeholders who attended the durbar include Traditional Authorities, Fisheries Commission Directors and Officers, Director of the WildLife Division of the Forestry Commission-Western and Central Region, Marine Police and Navy Officers, Densu Oyster Pickers Association, DCE and Officers from Shama District Assembly, Pra Co-Management Committee, fisherfolks and community members from the 11 communities.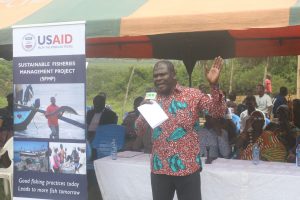 National Director of Fisheries Commission commended USAID/SFMP and Friends of the Nation for a good community fisheries based management initiative. He also indicated that the MOFAD and Fisheries Commission are aware that similar initiatives are also ongoing at Densu and Ankobra riverine areas. He entreated the community members to sustain the closed season as a yearly activity and also protect the mangroves and the other identified fish breeding grounds. He also encouraged other fishers to support closed season implementation or initiate local closed season to sustain the fisheries livelihood.
ABOUT THE PRA ESTUARY FISHERIES CO-MANAGEMENT PLAN.
This is the first fisheries co-management plan designed for the Pra estuary, a specific water area in the Shama District of the Western Region of Ghana. The legal basis of this plan is derived from section 2 (a) of Ghana's Fisheries Act of 2002 (Act 625) which gives power to the Minister responsible for Fisheries to prepare fisheries management plans for the development of the fisheries in waters under the jurisdiction of Ghana. Also Sections 42, 43, 44 and 45 of this same Act 625 provides guidance for the development of fisheries management plans. This co-management plan therefore follows the process, content and structure prescribed by the Fisheries Act of 2002, Act 625.
The purpose of this fisheries co-management plan is to ensure the sustainable management and development of fishery in the Pra estuary and enhanced benefits to those involved in fishing, processing and the marketing value chain. This plan aims at contributing to address the declining fish stock and the resultant poverty, unemployment and food insecurity in the Pra Estuarine area.
The development of this Pra Estuary fisheries co-management plan has been facilitated by Friends of the Nation with support from the Sustainable Fisheries Management Project (SFMP); a five-year project (2014 -2019) with the goal of rebuilding targeted marine fish stocks that have seen major declines in landings over the last decade, particularly the small pelagic fisheries that are important for food security and are the mainstay of the small-scale fishing sector. University of Rhode Island Coastal Resources Centre (URI-CRC) leads a consortium of partners tasked with an integrated suite of activities including
Improved legal enabling conditions for implementing co-management, use rights, capacity and effort-reduction strategies.
Improved information systems and science-informed decision-making
Increased constituencies that provides the political will and public support necessary to make the hard choices and changed behavior needed to rebuild Ghana's marine fisheries sector, feeding into applied management initiatives for targeted fisheries ecosystems.
Implementation of applied management initiatives for several targeted fisheries ecosystems