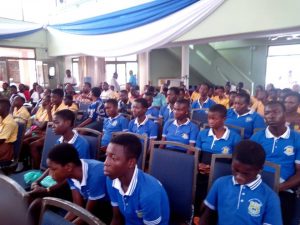 This call was made today at an USAID – US Agency for International Development-SFMP funded event – Inter-School Quiz Competition on Child Labor held in Cape-Coast.
The program which was organized by USAID-SFMP partners SNV Netherlands Development Organisation, Central and Western Fishmongers Improvement Association – CEWEFIA, DAA and FoN, was actively supported by the Oguaa and Anomabo Traditional Councils (representing the Central Regional House of Chiefs), Department of Social Welfare, Ghana Education Service (GES), CEDECOM and Central Regional Coordinating Council.
The Chief Fisherman of Cape-Coast (Nana Arthur Norman) called for the strict enforcement of fisheries laws in order to protect the fishery livelihood, and also called on children and parents to take education serious because they can only become "good and efficient fishers" in future if they take their education serious today.
Participating schools in the quiz competition were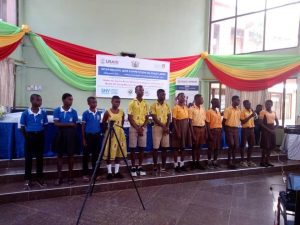 – Egyaa M/A Basic School (Mfantseman);
– Bantuma M/A Basic School (KEEA);
– Moree M/A JHS (AAK); and
– Ekon M/A JHS (Cape-Coast Metro).
The Metro Director of GES, Mr. Philip Kwesi Inkoom entreated children to take their education serious and be assertive against abuse of their rights by parents and guardians.
Osabarima Kwesi Atta II, Paramount Chief of Oguaa Traditional Council admonished children to be respectful of adults and merge learning with traditional values.
He also admonished the gathering against poor sanitation practices along the coast, and also against mining sand on the beaches (citing the Minerals Act).
Written by: Kwesi R. Johnson (FoN)